Regular price

$74.99 AUD

Sale price

$59.99 AUD

Unit price

per

Sale

Sold out

Introducing the ultimate portable super blender! Designed with a generous yet lightweight capacity and a sleek, cutting-edge design, it's the ideal companion for your journey from your home, gym, to your workplace and beyond! Embrace convenience featuring a robust and powerful motor speed and innovative pulse mode technology, enabling you to craft your smoothies, shakes, frappés, and baby food on the go! View full details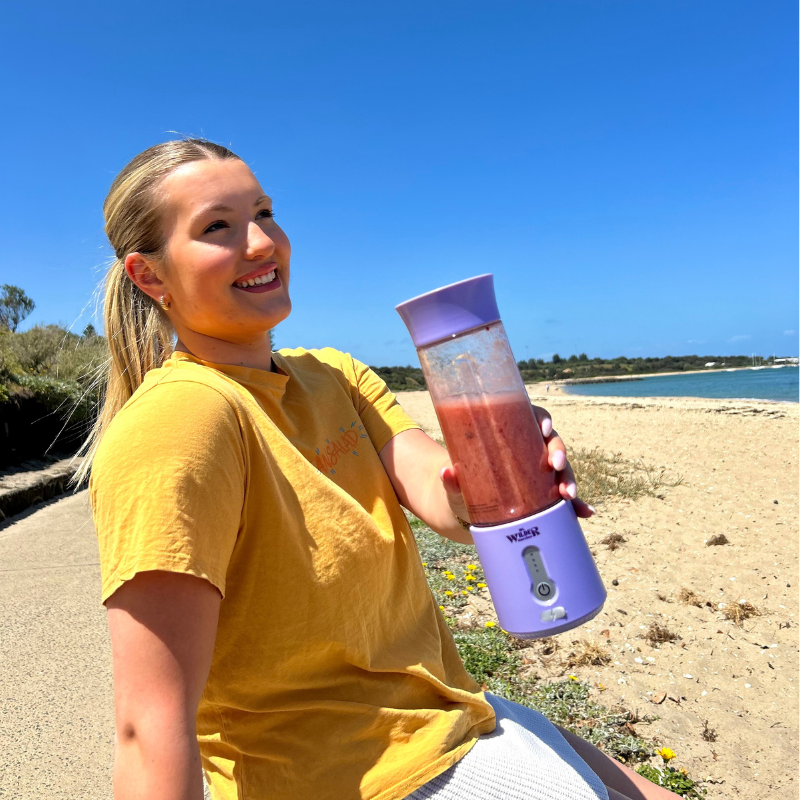 ---
What does it do?
Introducing the superhero of blenders, the world's mightiest portable smoothie blender is here! Say goodbye to bland mornings and hello to blended bliss on the go. It's the lightweight wizard that's got your back, making your busiest days a breeze. Whether you're a smoothie superhero or a protein shake pro, this portable blender is your trusty sidekick for all your blending adventures.

Why not bring your smoothie to work, the gym, a beach day, or even on a globetrotting escapade?
What are its features?
Portable, take with you anywhere!
Powerful technology powers through anything in 30 seconds flat.
Rechargeable USB TYPE: USB-C (charging cable included)
Pulse mode included!
Bottle Capacity: 500ml (16.9fl oz)
Charging Time 3 hours
Single working time: 30 second blends
Self-cleaning & BPA free.
Water resistant
What can I make?
Get ready to unleash your new best blend in the palm of your hand with MTWB Super Blender. We've designed a portable powerhouse to let you whip up whatever your heart desires, wherever you happen to be. Perfect for making smoothies, protein shakes, snow cones, frozen lattes, baby puree's, slushies, dips, dressings and sauces!
Usa Customer
Please Click Here And We Will Re Direct You To Our Amazon USA Store. We Gently Freeze Dry Our Wild Berries That Grow Just As Nature Inended. All Of Our Products Are Free From GMO's, Soy, Gluten, Lactose, Fillers Additives And Sweetness. Proudly Australian Certified Organic.
Shipping & Returns
We aim to send out orders on the following business day after receiving them. However, we kindly request that you allow up to 2 business days for order processing. Every order is meticulously selected and prepared with care in Brisbane, Australia. For all frozen products. Please ensure you add your best contactg number upon checking out as we need to ensure that you are home for delivery. Unfortunately we do not offer returns. If for any reason you have queries or questions please don't hesitate to reach out to our friendly Customer Care team at info@mtwilderberries.com.au.
Care Instructions
Please reseal all super powders and juice. Be sure to keep away from direct sunlight. For all frozen products, Please keep frozen at all times.
Product Information
All of our products are sought with premium quality in mind. We carry Australian Organic Certification to ensure the purity and quality of our berries are maintained. Our Wild Blueberry Juice is always wild grown and wild foraged and contains no additives or fillers.
Nutritional Benefits
Wild Blueberries may support you in heavy metal detoxing, immunity support and provide you with your daily antioxidants
Serving Suggestions
We recommend a 50ml serving per day. Our wild blueberry juice has over 2500 wild blueberries per bottle.